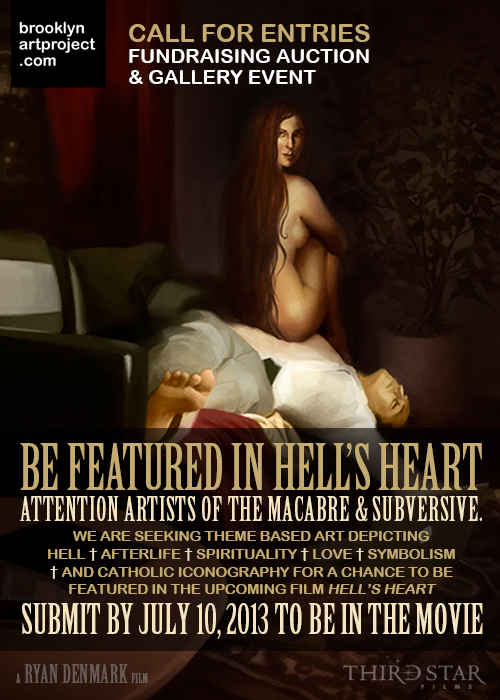 THANK YOU TO ALL WHO SUBMITTED, THE PROJECT IS NOW CLOSED
How To Enter
1. Your piece should explore any of the following themes: Hell, Afterlife, Spirituality, Love, Symbolism, and Catholic Iconography. Feel free to make a new piece or submit one you already have. Any size.
2. Upload the artwork to BrooklynArtProject.com and include the tag #hellsheart. You must be a member of BrooklynArtProject.com to upload submissions. Membership is free and oen to artists globally.
SIGN-UP HERE Deadline: July 10, 2013
[button link="http://www.brooklynartproject.com/photo/photo/newWithUploader" color="#333333″ size="5″ style="1″ dark="0″ radius="auto" target="blank"]Upload your submission[/button]
Prizes
Artwork shown in the feature film Hell's Heart.
Artwork featured in a Brooklyn exhibition and auction. Earn from the sale of your artwork.
A featured Artist Interview on Brooklyn Art Project.
A signed print of the Hell's Heart poster by director Ryan Denmark and illustrator Dan Masso.
10 artists selected for the gallery run will be entered into the PEOPLE'S CHOICE voting round. Winner announced at auction.
[twocol_one]

Deadlines and Guidelines
Entry must be received by 12am EST on July 10th 2013 and be submitted through Brooklyn Art Project. To be considered:

– Entries must be in traditional or digital art mediums only – Entries must follow the guidelines stated above – You must be a member of Brooklyn Art Project to enter. Membership is free.   – You may submit more than one entry

[/twocol_one]

[twocol_one_last]

Attend the party!
Mark the calendar! Hell's Heart in association with Brooklyn Art Project is throwing a huge fundraising party on Tuesday, July 30th, where we will be actively marketing and auctioning your work to eager art buyers. 50% proceeds go to the film and 50% to the artist.
Location details to come. Hell's Heart will be donating 2% of their raised funds to support a local domestic abuse charity, artists are encouraged to join us in doing the same.[/twocol_one_last]