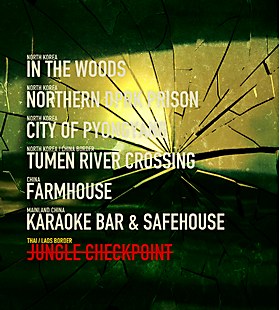 This long-format companion film to The Defector is best enjoyed with the mentality that this is just like watching a documentary, but that it's interactive. The project took more than year to come together, with 37 creatives from three firms working on production, digital and animation.
Short 30-second clips form a linear POV story as you escape North Korea. At specific points between each leg, you come to a stop at a 360 location where you can see more content pertaining to that leg (real hidden-camera footage, interviews, statistics, and photos). "Shooting in North Korea was virtually impossible, so with the use of hidden camera footage, photography and shot footage, we created a unique style of animation that could tell the stories we gathered from the defectors that were interviewed," says Jam3 creative director Adrian Belina.
This gaming style spills over into the navigation: The bottom menu dynamically cracks the scene into pieces and offers a stylized list view, while clicks on a map at the top right play a slick animated map view of the journey on top of the scene.
All large media assets are loaded on a CDN (content delivery network) and each video leg of the journey progressively streams— as you begin to watch one, the next scene's elements load, conserving bandwidth on the host.
While the interactive documentary is a stand-alone piece, it draws attention to Fathom's feature-length documentary film The Defector. "The purpose of the experience was not to act explicitly as a marketing site (it has its own site for that), but it has certainly helped," notes Belina.
Credits: fathomfilmgroup.com
| jam3.com
| psyop.tv



Communication Arts
// From our friends at Communication Arts