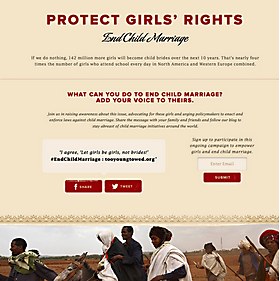 Too Young to Wed is a multimedia campaign sponsored by photo agency VII and the United Nations Population Fund (UNFPA).
The campaign seeks to raise awareness of the practice of child marriage, and ultimately, to end it.
The website is the central online home for the campaign, which also includes social media messaging and a traveling documentary photo and video exhibit which debuted at the United Nations headquarters in New York late last year.
With full-frame imagery, the site highlights the photography of Stephanie Sinclair and Jessica Dimmock, with subtle design details inspired by the color palette, patterns and flourishes found within the images.
Most dramatic are the featured stories of married girls ages 5-15 from Afganistan, Yemen, India and Ethiopia. One such girl, Destaye, is featured in a beautiful video produced by Public Record.
Credits: bluecadet.com
| kstracq.com



Communication Arts
// From our friends at Communication Arts