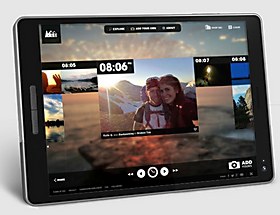 "REI has a passionate fan base that loves to share pictures and stories of outdoor adventures. The 1440 Project invites those outdoor enthusiasts to celebrate every single minute spent outside (all 1440 of them) by sharing their favorite outdoor photos. Photos are displayed based on the time of day they were shot and so help fill out an interactive timeline of a virtual day spent outside.
"The development of the site was a true partnership between REI, BBDO Atlanta and RESN. BBDO had a core team that developed the concept and initial architecture for the project overall. This included an art director, writer, UX Strategist, digital strategist, digital producer, and project Manager. RESN had a design and development team that brought the site to life.
"The ability to upload photos and navigate the timeline is the core experience of the site. It is a very simple idea, conceptually speaking, and the site design was also kept as simple and elegant as possible. From a technology perspective, the key functionality is the ability to read the metadata that's embedded in all digital photographs to determine the time of day the photo was taken. The site can then position the photo accordingly.
"Users can also customize timelines based on location, activity, and even friends. The navigation of the site was really just an extension of the concept—that is, we wanted users to easily upload and browse photos representing every minute of the day. It was important that the navigation not get overcomplicated. The site allows for simple minute to minute browsing. But because scanning through 1440 minutes might take a while, RESN created a secondary nav element allowing users to go directly to any point on the timeline simply by moving the hands on a clock graphic.
"The response to this project has been tremendous. Completely empty at launch, the site now boasts more than 65,000 visits and, importantly, almost 7000 photos uploaded. It's turned into a true celebration of every minute spent outside."—Cabot Norton, executive creative director at BBDO Atlanta
Credits: bbdoatl.com
| www.resn.co.nz



Communication Arts
// From our friends at Communication Arts