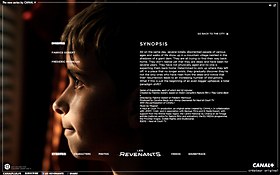 Will you accept to die to enter the city where the dead come back? Enter the city of Les Revenants, the new CANAL+ series, and experience the first mobile website in 360°. Discover the streets and places within the city by moving your iPhone or iPad around you and feel the strange atmosphere of the city and its inhabitants. There are twelve 360° scenes to navigate, each one featuring different sets of characters (each with photos and videos) plus the original soundtrack from the series.
• From concept to completion, the site took about three months using a core team of ten people and was phased in three steps: Prelaunch (bloggers had to Tweet to turn on the lights over the city of "Les Revenants"); Launch (once there was enough tweets, the site went live featuring both the editorial content relating to the series, and an online experience showcasing twelve scenes where the series was shot. A digital campaign directed traffic towards the website); Episodes Push (at the end of each broadcasted episode, a clue was given
to bring users back to the website to seek additional information about one
of the series' characters.)
• The site was monitored at launch through a set of GA objectives to
identify drop off (if any) at key stages of the loading sequence. About 90% of the site's assets are loaded from Canal+'s CDN (Akamai) both for the Flash and HTML versions of the site. Editorial videos are streamed from Akamai, and other videos are progressively loaded.
• PHP5.3, MySQL, HTML4/5, CSS 3D, AS3 (Stage 3D & Away3D Lite) were used to build the site, but no plug-ins are required as it's available in HTML. The key technical hurdle was adapting the 3-D scenes from Flash to HTML using CSS 3D and overlaing video sequences using sprites, plus the use of the iOS accelerometer and compass to control the rotation.
• Approximately 1 million visitors went to the site since it launched and the first episode was seen by more than 1.4 million viewers, the second best start for a Canal+ Series.
Credits: www.betc.com


Communication Arts
// From our friends at Communication Arts