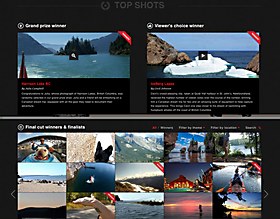 To help promote Canada to potential visitors from around the world, the Canadian Tourism Commission (CTC) turned to those who know the country best—Canadians. Challenging Canada's 35 million Canadians to capture their country on film, the CTC launched 35 Million Directors, a nationwide user-generated content campaign that provides the world an authentic glimpse of Canada, from coast to coast.
Those personal glimpses resulted in over 65 hours of footage collected from over 8,000 individual photo and video submissions, from which one inspiring two-minute video was created. The site features 420 winning and finalist submissions.
• To coincide with interviews scheduled with national television talk shows, production was tied to a strictly-defined timeline and a finite launch date; end-to-end development of the site was completed in only 10 weeks' time.
• Designed to leverage the social sharing, deep links were built into each photo and video featured on the site so that users can share—via Facebook, Twitter, Pinterest or Bitly link—the individual pieces of content that stand out to them most.
• To keep site content dynamic, the main grid of 20 images/videos randomly refreshes every hour-giving visitors a new taste of Canada with each passing hour. Yet by caching the grid and having it refresh every hour rather than upon each visit, the site can load quickly, allowing for a smooth user experience despite of the significant amount of heavy media.
• To better promote the country as a travel destination, an emphasis was placed on search and filter functionality to enable users to explore the specific locations and experiences that speak to their unique interests and preferences. Coupling over 100 different tags with auto-complete search functionality, users can filter for images and video based on location, theme—such as outdoor activities, shopping and dining, entertainment and performing arts—or with open-search. Adding to the user experience, auto-complete in open-search ensures each search returns results.
Credits: www.fcv.ca
| tribalddb.ca
| en-corporate.canada.travel



Communication Arts
// From our friends at Communication Arts