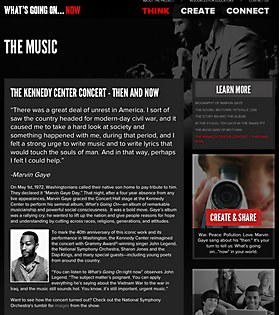 In 1971, Marvin Gaye captured and commented on the spiritual and cultural chaos of the nation with the recording "What's Going On." This site commemorates the 40-year anniversary of his performance at the Kennedy Center and educates youth about the societal importance of making art.
The site is part of the ArtsEdge program developed by the Kennedy Center for teaching and learning through the arts. It explores the social issues that influenced Marvin Gaye's music and reveals how those issues may seem as pertinent and influential to young artists today. Using his music as a catalyst, the site gives young people the knowledge and tools to compose their own form of expression in response to the question, What's Going On Now?
Thematically tied to the purpose of the site, the simplicity of the Think Create Connect main nav encourages a young audience to downloaded and remix tracks, make videos and submit their work to be featured on the site.
• The site (and program) were launched with a press conference featuring John Legend performing with students from DC's Duke Ellington High School of the Arts. Their inspired performance was used to seed the site and cultivate awareness about the Kennedy Center's program and mission.
• Although seemingly flat and simple, the robust Drupal site serves rich media and aggregates user-generated content hosted on the social web.
• The play button on the home page transforms the site into a slideshow comparing images from the past with images from the present.
• With a robust timeline comparing historical milestones, songs to listen to and lyrics to explore, the site is a education-rich resource.
* With the intent of making the site accessible to all teens, it was built using the most widely accepted web standards.
Credits: fleishmanhillard.com



Communication Arts
// From our friends at Communication Arts