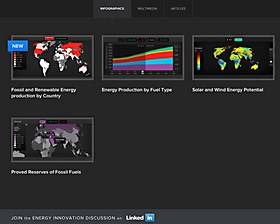 This site explores the past, present and future of energy usage, demand and dependency. It makes the complex story comprehensible through an intuitive design interactive infographics and maps.
It interprets complex data sets and transforms a series of imposing spreadsheets (on a range of issues including Global Population Densities, Fossil Fuel Reserves and Bio-Fuel Production) into an impressive collection of easy-to-use, visually rich and highly interactive infographics. The result is clear, palatable and beautiful messaging and information—and a lot better than digging through spreadsheets—that reaches a broad audience.
• The site, a collaboration with National Geographic Maps and Oldtown Creative, was completed in two phases: The first iteration took approximately five months; the second phase lasted three months, during which several new infographics were produced and the site UI was reorganized and reskinned.
• National Geographic wanted the infographics to function on the iPad; the team dove into the latest JavaScript libraries and frameworks, leveraging JQuery, Raphael.js, JQPlot, custom JavaScript and SVG graphics to make the interactive work across browsers and devices. The site was specifically optimized for use on an iPad and legacy browsers.
• Consideration was given to the variety of audiences (including industry experts and the general public) that would be using the site and careful attention was paid to the UI and narrative structure, which not only presents deep information and data, it also tells a story.
• The site is large part powered by Old Town Creative's custom GeoConsensus CMS.
Credits: bluecadet.com
| maps.nationalgeographic.com/maps
| www.oldtowncreative.com



Communication Arts
// From our friends at Communication Arts