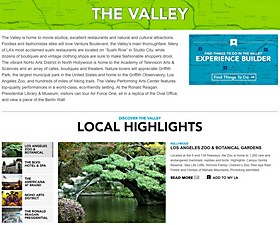 A definitive one-stop hub for Los Angeles visitors and locals, with comprehensive, current information about its culture, sports, attractions, nightlife and dining.
The site uses a map-based by-neighborhood approach to introduce the vibe of each area from downtown to the beaches and the valley, along with where to eat, shop and play. It incorporates the social web for real-time sharing and feedback and Open Table for restaurant reservations.
The primary tool is the Experience Builder (accessible in collapsible footer nav on every page) that enables filtering by region, category and keyword. Users can create, save and share lists of events and a Google Maps feature indicates where selected activities are in relation to each other. There's also a comprehensive and curated special events calendar integrating event feeds and user-submitted events organized by interest.
• This site, a seven-month collaboration between Digitaria and the Los Angeles Tourism & Convention Board, is the latest installment in a new global destination branding campaign by LA Tourism, which began in the spring with the rollout of a new logo—"Los Angeles" written in a script that resembles a celebrity signature.
• The Los Angeles Tourism and Convention Board promotes more than 1,000 local businesses; there were 15 – 20 internal stakeholders structuring the site's architecture and labeling.
• More than 1,000 images are featured from LA Tourism's Flickr group of more than 30,000 user-generated photos.
• The Discover LA site used fieldable panel panes—a new feature of Drupal 7. The panes give content managers the flexibility to build modular pages, with predefined and styled content blocks that can be used interchangeably on the blank canvas of a panelized page.
Credits: digitaria.com
| www.discoverlosangeles.com/tourism



Communication Arts
// From our friends at Communication Arts