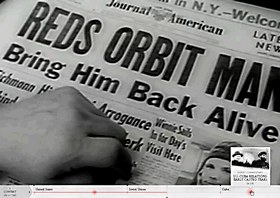 To bring awareness to the events surrounding the Cuban Missile Crisis this site recounts the weeks leading up to October 1962 through an interactive and immersive documentary that captures the emotional tensions of the time.
It's a detailed retelling of the events surrounded by a wealth of contextual material that visitors can engage with as they like. At its core is a 25-minute documentary covering the crisis from its 1959 beginnings when Castro overthrew Batista. Also included are 40-minutes of expert interviews on 15 related topics and a 10-minute "What If?" film that offers a feasible alternative scenario had the crisis escalated to nuclear war.
A main timeline is tied directly to the film and moves in sync with the dates in the videos via a playhead that slows down and speeds up correspondingly. As the story unfolds new contextual material comes and goes, inviting users to drill-down into sub-content linked to moments in the documentary. Included are almost 200 photos, documents, archive films and audio files, including the entirety of JFK's secret ExComm recordings, revealing the secret discussions over 13 days that eventually led to the deal that ended the crisis. The ability to drop content into a dossier for later viewing makes the experience rich and thorough without making it overwhelming.
Mobile and syncing features also take the experience from the desktop to mobile: Entering a code enables the collection of all dossier content as the main documentary is being viewed. Replayable on desktop or mobile, clicking to explore a piece of content automatically pauses the desktop. Visitors can also link to a calendar-based retelling of the 50-year-old event through a "live" calendar that sends real-time alerts and deep links to dossier content.
• The project was a collaboration between The Martin Agency and Tool of North America and began when Tool was engaged in April 2012. Production began in July and the site launched in October.
• The site is built in HTML5 and the same code for the desktop works seamlessly on many tablets.
• There was no markup written for this project and only a few global styles are in a CSS files. Every object is created, styled and animated using a custom JavaScript framework called Hydra. The backend is a custom CMS written using PHP built to work with the Hydra front-end framework.
Credits: www.martinagency.com
| www.toolofna.com



Communication Arts
// From our friends at Communication Arts