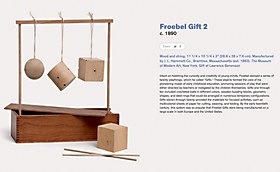 MoMA's ambitious survey of 20th century design for children is the first large-scale overview of children and childhood as a paradigm for progressive design thinking.
The exhibition brings together areas underrepresented in design history, including school architecture, clothing, playgrounds, toys and games, children's hospitals and safety equipment, nurseries, furniture and books. The exhibition features hundreds of objects (prints, paintings, sculptures, toys, games, furniture) and supporting archival videos.
The navigation was inspired by the seven sections and multiple subsections of the exhibition, which are thematic and chronological (though overlapping). Users are able to explore at random, by theme in the timeline, by object or through related objects. The intro page is a portal of choices and objects and gives users a place to enter the century. From there, related imagery and a persistent section wheel allow people to bounce around organically through the different sections and themes. Important events of the century drop into view in each area to give users another point of historical reference.
The main challenge facing the designers was presenting the breadth of
content in a way that reflects a spirit of play while
offering informational depth.
The result is a lively interface filled with surprises: The walking child animation and the overall atmosphere of the site were inspired by Peter Pan and Neverland (a bit dreamy and imaginative, much like the mind of a child) and the structure was inspired by puppet theater (less rigid and more three dimensional, with objects dropping in from above and sliding past in and out of view).
• The site was in development for three months, including initial scope discussions.
* Inspiration was taken from pieces of the actual exhibit, including various Bauhaus shapes, earlier period toys and children's games, along with the creative team's favorite childhood memories and activities. Inspired by familiar toy structures like the metal music box, spirograph and spinning top, lots of spinning, swirling, colorful circles made their way into the design and color scheme.
• The site is scripted in HTML5 using JavaScript for most modern browsers and works well in the tablet framework. The museum and developer decided against a mobile version in order to create a more robust experience. Instead, a splash page is offered for phones.
• Sharing functionality is built into the site and supporting blog posts are hosted on the MoMA/MoMA PS1 "Inside Out" blog. A daily Tumblr post pulled images and text from the site for the 100 days that the exhibition was open.
• A shared content matrix enables the curatorial team to make rapid edits to the vast amounts of textual information.
Credits: hellomonday.com



Communication Arts
// From our friends at Communication Arts