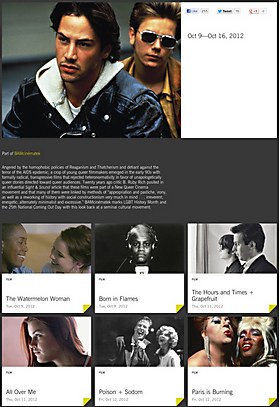 Drawing inspiration from 150 years of artistic innovation, this refresh for the nation's oldest performing arts center was created pro bono by R/GA in collaboration with Brooklyn Academy of Music's in-house web team. Timed to roll out during its 50th anniversary celebration, the redesign makes its official debut with a continuing commitment to its work, improved functionality for its audience and a focus on a new mission statement, "BAM is the home for artists, audiences and ideas."
The new site places a high emphasis on original content developed around BAM's history and archives, current productions and its roster of iconic artists. Expanded video and social media integration allows site visitors to sample BAM experiences through video produced in-house and to comment on events.
The site has two major content areas: Onstage and Backstage. Allowing users to quickly understand and scan events by common genres (Music, Dance, Theater, etc) Onstage is represented by a left-hand nav and the long-scrolling landing page. Backstage, with a focus on the institution's mission, history and relationship with the Brooklyn area, is accessed with a top-page navigation that does a great job of introducing the user to the breadth of BAM's programming and its bold, inventive visual style. The long-scrolling page transforms as a visitor scrolls to emulate the excitement of leafing through a program guide.
• The redesign was in development for a year-and-a-half and was overseen by R/GA, which supplied visual and interaction design and strategy; BAM's digital media team and IT departments provided original content and built the site.
• The site architecture is completely cloud-driven, utilizing Amazon Web Services. Load-balancing and file storage in the cloud ensure scalability and performance to the widest audience at a fraction of the cost of traditional dedicated hosting.
• A Flash-based video player is offered for browsers not supporting HTML5 standards. The site, heavily reliant on JavaScript (for JQuery and AJAX interactions), responds best on modern browsers, regardless of hardware platform.
• The site was launched in concert with the opening of the new BAM Fisher Building (BAM's third stage).
Credits: www.rga.com
| bam.org



Communication Arts
// From our friends at Communication Arts