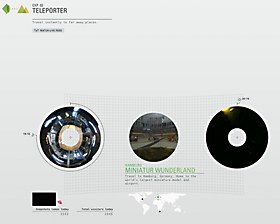 This revolutionary five-experiment exhibition highlights the way technology allows people to connect and engage with each other in real-time. It's the online component of a year-long physical exhibition in London's Science Museum featuring a series of interactive Chrome Experiments that bring the intricacies of the web to life. In what is a truly global exhibit museum visitors can interact with the technology at the same time as online participants.
The recurring theme is the connection of the virtual and physical worlds and the concept of the hidden magic of the web; each of the five experiments has its own feature set that showcases particular modern web technologies: Universal Orchestra, an Internet-powered eight-piece orchestra uses WebSockets and a NodeJS backend for real-time collaboration; in Sketchbots, WebRTC and HTML5 Canvas enable custom-built robots to take photographs and sketch them in sand; Data Tracer uses WebGL to track and present where the world's online information is physically stored; Teleporter is a series of web-enabled periscopes to view the world and uses WebGL to wrap a video stream into a 360-degree panorama and the WebM codec to deliver it to the browser; finally, Lab Tag Explorer uses WebGL to create a dynamic 3-D environment to display on-site Web Lab visitors.
The site utilizes a vertical and collapsible nav to make the best use of screen space and keep the experiments as immersive as possible while keeping the tools to navigate close at hand. Each experiment is presented on a single page—to smooth animations and optimize performance—that includes details about the technologies and more information about exhibition.
• The project spanned nine months from pitch phase to beta launch.
• In addition to the many HTML5 animations featured throughout the site and live-feeds from the Science Museum and Teleporter cameras, there's also an ever-growing number of user-generated content (created online and at the exhibit) that includes videos, images and musical compositions.
• The site is accessible in eight languages, other than English, including Japanese and Russian.
• Every visitor to the exhibition, whether online or in the museum, is given a visual code, called a Lab Tag, that can be scanned at each experiment to let users track their movement through the exhibit. After leaving the exhibit, visitors can use the Lab Tag to access their artifacts and revisit the exhibition.
Credits: google.com
| tellart.com
| www.b-reel.com



Communication Arts
// From our friends at Communication Arts