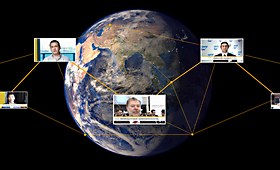 SAP is celebrating its fortieth anniversary with this live and online interactive exhibition that's a journey through the enterprise software company's past and present and a look toward its future.
The live exhibition takes place in a pavilion built specifically for it in Waldorf, Germany; the web site allows visitors around the world to become part of the exhibition.
The interactive exhibit and its content is directly connected with the microsite: Text and video congratulations are posted to an interactive wall and become part of the exhibition and questions about the company's future actively influence the on- and offline content of Project Inspiration.
• A mirror of the physical exhibition, this site was completed in three months.
• The site is built with HTML5 (CSS, JavaScript) and uses SVG to draw vector graphics. The server is PHP-based.
• So far, the site houses approximately 250 videos including greetings, questions, answers and snippets from the past; Milestones is a compilation of more than 130 events from SAP's past and present.
Credits: www.eurorscg4d.de
| www.zumkuckuck.com



Communication Arts
// From our friends at Communication Arts