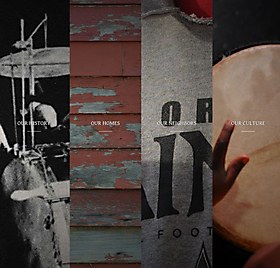 Built using HTML5 and JavaScript, this interactive documentary for the Kellog Foundation tells the story of community building and social recovery post Katrina in Central City New Orleans.
The beautifully modern take on non-linear storytelling is the first in a series of projects that showcases authentic stories about communities across the country working to heal racial divides. It's a rich, user-driven, interactive experience utilizing a mix of content and media types.
As an interactive documentary experience, it allows visitors to choose their own path while uncovering the stories of Central City and its residents. Rather than passively presenting facts it offers an opportunity to explore personal stories that shed light on racism.
• The clean and intuitive interface utilized HTML5's audio and video capabilities as well as CSS3 and object-oriented JavaScript. The
responsive approach enables a single site to work across all modern desktops and mobile browsers.
•
Though the stories default to a non-linear path, the detailed interface makes it easy for visitors to explore in a variety of ways and uncover stories within stories.
• Stories are broken up by theme and character, all accessible at any point in the experience by using the drawer at the bottom of each page.
Credits: www.webershandwick.com
| legworkstudio.com



Communication Arts
// From our friends at Communication Arts