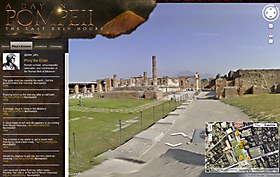 This site promotes the Denver Museum of Nature & Science's A Day in Pompeii exhibit by making an event that occurred nearly 2,000 years ago relevant to a modern audience.
Advance tickets for the exhibit went on sale August 24 (the to-the-day anniversary of the 79AD eruption of Mount Vesuvius). On that date at 8AM, Twitter updates from the only "eyewitness," Pliny the Elder, began; what followed was an hour-by-hour account of the destruction. Tweets were linked to actual locations and visitors could walk the same streets Pliny the Elder did nearly 2,000 years ago.
The launch used Twitter as a disaster-reporting tool and succeeded in promoting an historical event in a modern and timely way while engaging the public and offering a way for visitors to explore and learn about the eruption and discover artifacts. Utilizing the Google Maps and Google Street View APIs, the site is transformed into an exploration; visitors can navigate their way through the ruins of Pompeii and click on artifacts that show their exact position and launch a pop-up with a detail and further details.
• Fifteen people, including a few historians and curators from the museum. completed the site in a week-and-a-half.
• The agency integrated not only the Twitter API but also the Storify API so they could tell the story of Pliny within one tab and enable the audience to follow the conversation threads and discussions.
• Throughout the day the agency was caching all of the feeds into an XML file. It allowed them to manually tweak the feeds to take visitors to specific content and geographic points on the map.
• The site received nearly 17,000 visits and 30,000 page views in four days and Pliny's Twitter coverage received national and global attention in the press and generated over 62 million media impressions.
• The museum received multiple requests from teachers across the country to keep the site live so they could use it as a teaching tool.
Credits: www.carmichaellynch.com



Communication Arts
// From our friends at Communication Arts