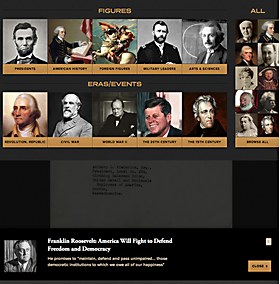 With offerings that include pieces from Abraham Lincoln, George Washington, Napoleon Bonaparte and Albert Einstein, the Raab Collection is an internationally-recognized dealer of historical documents and autographs. Their pieces grace some of the world's greatest personal and public collections, including the Smithsonian, the National Archives, the Library of Congress and the British Library.
With a new design that immerses users in the famous documents and a navigation structure that puts the focus on the historical figures who signed them, this site provides both information and curation to Raab's ongoing inventory. Artifacts are categorized to allow users to explore them by category, era, signer, theme or date and an Explore Document feature enables detailed examination without pop-ups or leaving the page.
• The site was in production for seven months.
• Built in Drupal 7 the site is easily administrable and includes a custom dashboard to display analytics.
• The Raab Collection can post documents for individual users to see when they log in.
Credits: bluecadet.com



Communication Arts
// From our friends at Communication Arts