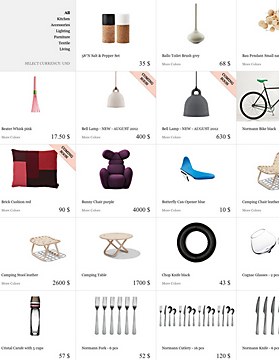 This digital universe, where customers flow freely between shopping, interaction and inspiration, captures Normann Copenhagen's in-store experience. Moving beyond a traditional online storefront, it uses storytelling and imagery to inspire passion and a stronger experience of the brand. It's an ambitious endeavor that brings the trend-setting design house to digital shoppers around the world.
Based on a concept the creative team termed "Love > Shop > Discover," it couples a compelling visual design and a unique technical platform, with all the advantages of a physical store and an online shop in a single presence.
• Customers experience the store through beautiful images, interviews with designers, blog posts and a video series that shows products in use and how to assemble them.
• Normann Copenhagen hosted a non-traditional physical launch event and installation exhibition, Normann Copenhagen Online vs. Offline, in its flagship Copenhagen store. It ran for four weeks and introduced visitors to a piece of the virtual world through an exhibition that guided customers through different installations each representing key areas on the site.
• As a way of living the approach, the project team created a blog that cataloged the development process; wedosocialbusiness.com makes the entire process transparent and involves customers in the creation.
• The system enables behavioral targeting. The site dynamically adjusts content based on user behavior; it also facilitates sharing numbers with the store managers in the real world who can use the information to make in-store decisions regarding signage and product placement.
Credits: www.valtech.dk
| sitecore.net
| normann-copenhagen.com



Communication Arts
// From our friends at Communication Arts