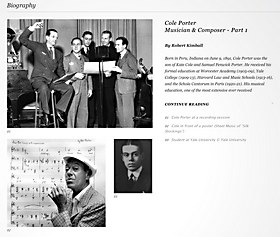 Cole Porter Sessions is the title of the recently released five-part CD box set that pays homage to the great American composer and songwriter.
To help create buzz around the landmark launch, the producers wanted an innovative and coordinated approach to all online communications. Fueled by Wilfried Van den Brande's enthusiastic and passionate support for this project, the website is part of a total communications plan linking flyers, newsletters, social media and of course the limited-edition collection.
Subtle graphics and brightly colored accents add a unique flavor to a structure based on an intuitive and simple way of getting information. From the homepage, visitors get an overview of the five albums that make up the set through a timeline-like visual approach.
• The site was in development for three months.
• The CD collection features never-before released titles reconstructed from manuscripts found in New York.
• The site has 95 mp3 (music samples), 175 images and 5 YouTube links.
• Music samples were revealed and concerts were announced on the site and an integrated social media campaign with weekly site updates helped create an atmosphere of anticipation.
Credits: www.undercast.com
| www.xian.be



Communication Arts
// From our friends at Communication Arts