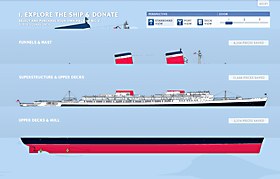 Part online museum, part social network and part historic preservation effort, this site offers visitors a unique opportunity to explore the SS United States and take part in her restoration in a very personal way.
The site is the key piece in the SS United States Conservancy's campaign to raise $ 25 million to restore and repurpose the endangered maritime icon as a waterfront attraction and interactive museum. Containing three main content modules—About the Ship, Historical Timeline and Shopping—it's a robust offering, custom-tailored to the specific needs of funding the restoration and capable of handling large amounts of concurrent transactions.
With an intuitive, interactive interface for exploring, saving and purchasing virtual parcels via multiple zoom levels and ship perspectives, individuals and corporate sponsors can save virtual ship parcels at $ 1 per inch in their own names.
• In development for three months, the site is built in Flash on the frontend; on the backend, the system runs on PHP and is powered by a MySQL database.
• The site consists of hundreds of thousands of bitmaps generated dynamically at runtime from a master vector image, based on the user's location within the ship and each of its three views. The Starboard and Port views are split into 144 sections (each section is in turn split into 154 sectors); the Decks view is split into 63 sections (each with 342 sectors). The result is just over 65,000 sectors, each of which requires an image to be drawn at runtime to give users the ability to select from around 45 million available inches.
• The shopping contains several sub-modules, each responsible for different tasks within the experience such as selecting a piece of the ship, rendering data layers in each zoom level, collecting user information and integrating with Facebook and the payment gateway.
• A hand-crafted record selection system prevents multiple users from selecting the same piece of the ship simultaneously while maintaining a healthy balance between server load and data accuracy on the user's end.
• Prior to launching the site, the conservancy had been relying primarily on an embedded PayPal donate button.
• The site received 1,868 unique visitors (2,341 total visits) in its first two days online.
Credits: socialcontrol.com



Communication Arts
// From our friends at Communication Arts