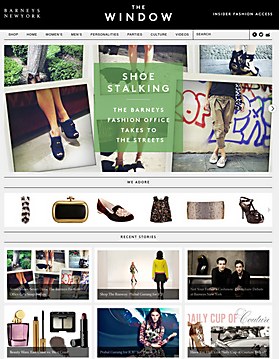 With this redesigned site, Barneys New York brings its unparalleled in-store experience online. The site bridges the gap between engaging customers and conveying the legacy of the brand. It combines sleek aesthetics with larger-than-life product views that are as special and glamorous on-screen as they are in stores.
The old Barneys browsing experience divided products into categories that confused users and required several clicks before products could even be viewed (60 percent of users who browsed women's shoes left the site before reaching an actual shoe page). The new navigation structure represents a significant shift with straightforward categories and filters. And, to provide additional inspiration to users, product imagery has been added into the dropdown menus and an XO (Exclusively Ours) icon highlights new, popular and exclusive items.
• The site was in production (from vision to launch) for eleven months.
• A Favorites feature allows users to save and share products, designers and categories; visitors can also follow fashion influencers and their favorite picks.
• Once products are favorited by enough people, they become "Most Loved," so visitors know which items are trending.
• The new site is peppered with content from The Window, Barneys' blog-like look at outfit suggestions, designer lookbooks and new products.
Credits: www.hugeinc.com



Communication Arts
// From our friends at Communication Arts