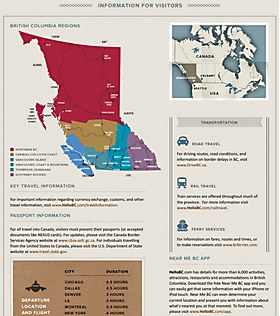 Getting your bearings in a province as diverse as British Columbia isn't easy. This site points travelers in the right direction with beautiful monitor-stretching photography and mini itineraries to link together quintessential BC experiences.
The site is the center of Tourism British Columbia's "100 BC Moments" campaign that hopes to raise awareness of the breadth of experiences the province has to offer in spring and summer. From whale watching to wine tasting to white water rafting, the site offers a look at British Columbia's diverse activities while suggesting trip ideas, travel information and special offers that can help people plan trips.
• From concept to completion, the site was in development for five months.
• All paid, earned and social media activities drive traffic to the site, Facebook likes are integrated throughout the site and the Moment pop-ups can be shared on social media channels.
• With a flat hierarchy, filters and a carousel of images, the navigation interface offers access to the right information in a limited number of clicks.
• There are over 1,000 files and assets used on the site, many of which are optimized or formatted for downloading speed. Images are lazy-loaded (deferred) and downloaded asynchronously, in parallel with JavaScript, to speed up the user experience.
• The site was built on a PHP scripting language using the Silverstripe (version 2.4) open source CMS and a MySQL database as the backend; APC was used to cache heavily used portions, queries and PHP pages; and a Lightspeed HTTP webserver serves up pages a bit faster than Apache.
• Since the launch in mid May, there have been over 200,000 visits and more than 1 million page views.
Credits: thisisdare.com



Communication Arts
// From our friends at Communication Arts