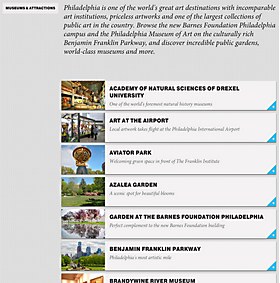 From the founding of the nation's first art museum in 1805, the Pennsylvania Academy of Arts, to the opening of the new, relocated Barnes Foundation in 2012, Philadelphia can stand-ground with the world's great art destinations. Still, few visitors are aware of the depth and breadth of the city's vibrant art scene or that it boasts more public art than any city in the world (in fact, it has more works by Renoir and Cezanne than all of France).
This collaboration with the Greater Philadelphia Tourism and Marketing Corporation is a visually-rich portal to Philadelphia's art scene and a useful online guide to a major artistic destination. Featuring numerous images of paintings, statues and buildings it's also a showcase of the breadth of art Philadelphia has to offer. Visitors can curate their own experience, tag artwork, peruse exhibitions, events, museums and attractions, view slideshows and create, download and share custom itineraries.
• The site was in production for three months.
• This site, with its marketing message and integrated social-enabled utilities is the centerpiece of a campaign funded by tourism corporations, cultural institutions and foundations in Philadelphia that are sponsoring its two-year run with print, transit and online ads and social media.
• An itinerary can be long enough to fill an afternoon or an entire weekend; the ability to add anything to an experience, from individual pieces of artwork to upcoming events and exhibition, offers a truly unique itinerary building experience.
• A 3D interactive map of the Benjamin Franklin Parkway, a mile long stretch of road in the heart of Philadelphia's art scene, allows visitors to click through to eight different stops along the parkway.
Credits: bluecadet.com
| www.pedrera.com


Communication Arts
// From our friends at Communication Arts