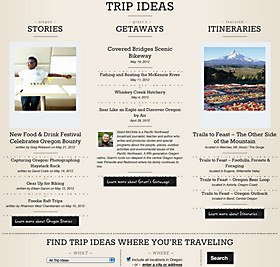 As the official guide to Oregon travel and tourism information, this new site integrates inspiring content with trip-planning information. It's a responsive site that works equally well on desktop and mobile platforms.
The primary nav is organized around inspiring travel, where to visit and planing; the secondary navigation gets a little more specific about what time of year, getting around and where to stay, eat and shop. Editorial content in the three main content sections is featured in the rollover state and focuses on a variety of hand-picked stories from across the site creates an the opportunity to tell richer editorial stories (around seasons, featured events, activities). The site search is also a useful piece of navigation that returns suggested terms, from letters/words typed into the search field, queried against site content to help people find what they're looking for even if the exact terminology is missing.
• All site content is tagged in a variety of ways so that all relevant, related content can be displayed in a variety of places based on categorization, geolocation, and editorial decisions.
• The site is built on a customized WordPress framework and the frontend is CSS, HTML and JavaScript (except the Flash map on the Cities & Regions page). Videos are hosted on YouTube in order to handle streaming.
• Because inspiration fails when people can't act on it, combining trip inspiration content with specific travel information is one of the core content functions. Travel Oregon's proprietary Orb database of all attractions, recreation, lodging, events, deals and restaurants is used to populate content across the site and then imported into WordPress to create the data relationships that achieve editorial and content goals.
• MEDIAmerica, Sparkloft Media and Maxwell PR created the content and Ten Bridges developed the database and hosts the site.
Credits: findsubstance.com
| www.wk.com



Communication Arts
// From our friends at Communication Arts