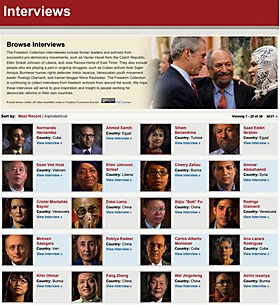 This online component to an exhibit that will be in the George W. Bush Presidential Center at Southern Methodist University is an archive of interviews with men and women who've led freedom movements against oppressive regimes.
Through 100 videos it tells personal stories and translates the idea of democracy and freedom into a visual execution that pointedly demonstrates the struggle.
The videos are the highlight of the site and all navigation is developed around providing easy access to them. Accordingly, the primary nav is a simple visual hierarchy that highlights the different ways to sort the videos—Themes, Regions and Interviews—and a tabbed slider presents access to a handful of them from the homepage.
• The site was in development for one year.
• A mobile version of the site that uses only text was designed for users with limited Internet and smartphone-only access.
Credits: www.bergmangroup.com
| www.gracecreek.com



Communication Arts
// From our friends at Communication Arts