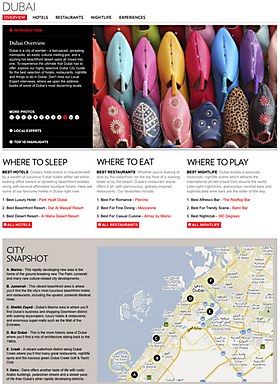 This travel inspiration/information site provides a mix of editorial, interviews and guides to an audience of travelers looking to get the best from a trip. Content consists of destination guides for many of the world's most popular cities, text and video content by locals, travel inspiration articles and shopping guides.
The visual design is based on high-end travel and fashion magazines using large, high quality images to engage and inspire the target audience. The photo-heavy style is not only appropriate for the content, it complements the site's minimal branding.
A simple and straightforward information architecture enables visitors to quickly and easily access content. A content rich homepage provides a range of different entry points for visitors interested in browsing. And navigating by City Guides, the majority of the site's content, can be done via map, dropdown navigation or site search.
• This first launch of the RedVisitor brand currently features 22 city guides each with approximately 100 reviews, 50 local expert videos and 100 travel inspiration articles and shopping guides.
• The interactive map for City Guides is currently being redeveloped in JavaScript for compatibility with tablet devices.
• The site receives 15,000 visits each month and has an active Facebook community.
Credits: www.reactive.com



Communication Arts
// From our friends at Communication Arts