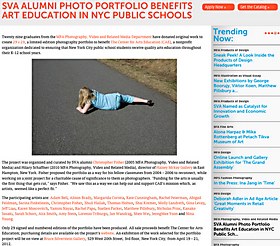 SVA launched this redesign in March. With a homepage that's curated daily, it's an easy-to-navigate framework for finding information and discovering new content and presenting SVA's ever-growing pool of talent. The dynamic and rich site aggregates media feeds to reflect the breadth of the SVA community and bring its collective artistic output to the forefront.
School of Visual Arts is a diverse community and this is their primary promotional and information communications vehicle. The homepage features a content-aggregating quilt that utilizes RSS to pull from external department sites and social networking feeds. There are also features-related content modules on every page that offer additional information and navigation opportunities and a way for SVA to showcase additional content like events, faculty and external blog posts.
With a global nav that floats in a persistent layer at the bottom of the browser window, the navigation and organization lends special emphasis to the various programs and courses offered by SVA for current and prospective degree, non-degree and continuing education students.
• The previous iteration of SVA.edu had not been redesigned for nearly nine years. Discovery, design and planning was four months and production was six.
• The frontend was developed in XHTML, JavaScript, and CSS. Flash was avoided and the lush rotators, accordion menus and other dynamic
elements were all achieved using JavaScript. Landing and listing pages linked to in the network navigation were designed for SEO and wayfinding purposes and to enable users on mobile devices, that can't detect hover as an input, to access all the site's information.
• The CMS was built using Symfony/PHP and is tailored to the workflow and requirements of the school. There are dozens of content modules
available to SVA editorial staff to build out their pages and a page layout editor in the CMS allows drag-and-drop customization of the
featured modules within each page (it also gives SVA the power to create and publish their own custom modules).
• There are thousands of featured artwork images that populate dozens of galleries throughout the site and the CMS allows editorial staff to pull videos from external sources.
• The school blog has been redesigned and renamed "SVA Close Up" and the college now has an official presence on Tumblr.
Credits: www.funnygarbage.com
| www.sva.edu



Communication Arts
// From our friends at Communication Arts