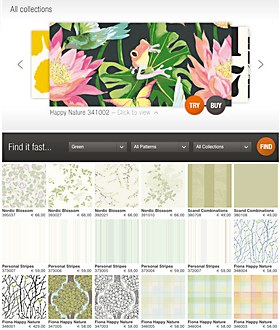 This Denmark brand is part of the country's wallpaper-making heritage. The problem with selling wallpaper to Danes, though, is that everybody in Denmark has plain white walls. So Fiona set out to inspire pattern loving countries of the world to buy their Scandinavian-designed wallpapers from this site. But who in their right mind would buy wallpaper for a whole room without having seen it in action or, even better, in real life first? The solution lies in the interesting space between experience oriented brand site and e-commerce.
Challenging the perception of search, this browser app gives the audience a fun and engaging way of exploring the collections in natural room settings. Visitors can browse in different environments that are uncluttered and pleasing. And, ultimately, favorites can be saved and samples can be ordered by mail by anyone who can't make a decision.
• The development team consisted of a creative director, art director, interactive designer/animator and two Flash developers.
• Site visitors can draw on the walls to search for patterns that match the mouse gesture.
• Since the launch, Fiona Walldesign and its wallpapers have been mentioned on several of the largest interior design blogs around the world. The brand has also entered new businesses and chains with the product in the UK, the US and Australia.
• The site is in 45 different countries and since launch, the usually little-visited site, has had 150,000 unique visits.
Credits: www.hellomonday.com



Communication Arts
// From our friends at Communication Arts