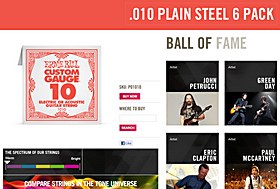 The name Ernie Ball is synonymous with guitar playing and is known worldwide by professional and novice guitarists for having the best strings in the business. Coinciding with year-long promotions, this site celebrates the brand's 50th anniversary, commemorates its years of legendary success and recognizes both the products and the artists who use them.
The site honors the past with a slew of history, images and stories to pay tribute to major rockers. To highlight the strings, the site incorporates videos, music players, news and history to remind visitors that the product is the hero.
Content consists of of a rich history section, a robust radio section that encompasses all 900 signed artists and a fully curated bulletin board style network for the fans to get involved with the community. Particularly unique is Tone Universe, a feature that helps guitarists determine what string they could play depending on their ability, type of guitar and the sound they're hoping to capture.
• In production for 11 months, the site contains over 300 songs, a robust ad gallery that spans 50 years and is growing video content daily.
• With the exception of the music player the site is built in HTML5 and CSS3.
Credits: metajive.com



Communication Arts
// From our friends at Communication Arts