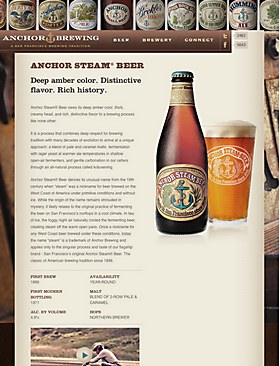 Founded in San Francisco 115 years ago, Anchor Brewing inspired what is now known as the craft brewing industry (without which beer drinkers might be drinking less-than-appetizing brews).
Combining rich history and traditional process with some state of the art touches, the site goes a long way in showcasing the iconic brewery. The nav is simple, visual, smooth and seamless, leaving Anchor's rich, historical imagery (culled from the brewery's archives) to take center stage. Beer Bio videos (produced by Redtail Media) tell the brand story of Anchor Brewing through an investigation of each of their beer brands and the Beer Shelf presents all of Anchor's signature bottles (selecting a beers drops the entire nav) as a means of navigating to each product write-up.
• The site was in production for five months and is the centerpiece of the Anchor Brewing digital ecosystem which will eventually include sister sites for Anchor Corporate and Anchor Distilling.
• Anchor recently rolled out a new blog to house more history and brewcraft content and a Beer is Social tab connects the engagement channels of Facebook and Twitter and YouTube with the site.
• Anchor's Facebook and Twitter presences inspired thousands of new followers in the first two weeks after their first posts.
Credits: www.finedesigngroup.com



Communication Arts
// From our friends at Communication Arts