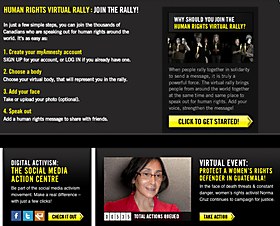 To celebrate Amnesty International's 50th anniversary each international section has its own AI50 initiative; this site is the hub of Canada's Anniversary campaign.
Central to the site is the Social Media Action Centre. Site visitors are notified by email and have up to a week to choose how and if they want to participate in a Virtual Event—participation includes signing an open letter/petition, sending an email to a government or corporation and post about the event to Facebook and/or Twitter. What's unique about the Social Media Action Centre is that social media activity surrounding Virtual Events is stored and simultaneously released. Releasing everything all at once has a larger effect, and results in a flurry of traffic and additional participation afterwards.
• This grassroots effort with no marketing budget launched in May 2011, and was updated and relaunched in November. The site will continue to grow during the next six months and Virtual Events will launch approximately every two weeks.
• One Pixel Off produced all of the online components and Toronto-based Agency 59 produced and ran transit and shelter posters and print advertising to direct people to the site.
• The first Virtual Event in May 2011 had 205 participants. It's most recent, directed at Shell and its role in the destruction of the Niger Delta and its violation of Nigerian human rights, had 2,375.
Credits: www.onepixeloff.com



Communication Arts
// From our friends at Communication Arts