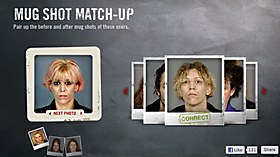 The Meth Project had launched previous campaigns that included hard-hitting TV, print and radio ads to combat meth use; while they were highly successful at combating use, they introduced many questions about meth into teen culture.
At the center of this new integrated campaign (television, outdoor, radio, social media and online advertising all drove teens to the site) is the newly launched MethProject.org, the first comprehensive online source of information for teens about methamphetamine. Catering to the way teens use the web for information, entertainment and social connection, it changes the way teens are talked to about this drug epidemic—it starts a two-way conversation rather than the one-way approach and gives teens frank and comprehensive answers to their questions without turning them off in the process.
Visitors start navigating by selecting a question (from among 25) and are quickly taken to an answers page with related content and perspectives (addicts, medical experts, friends and family of addicts). It's a thorough, rich presentation of the effects and consequences of meth use with interactive TV spots and activities, state-specific content and a community section for personal stories and artwork.
• The site was in production, with a team of 36, for 7 months.
• Researching the content required a stomach of steel and viewing endless images of meth mouth (severely rotten teeth and gums) and open sores; watching videos showing compulsive facial picking and the aftermath of meth lab explosions; and hearing truly devastating stories of violence, desperation and regret.
• The site has 36 minute-long clips pulled from documentaries about meth use; 6 Inside The Ads, previous meth commercials with interactive hotspots; 6 original graphic novel-style animations of stories from addicts; 18 audio stories, previous radio spots accompanied by graphic novel-style illustrations; 16 illustrated text stories from addicts illustrated in a journal format; 12 rich, interactive facts; 20 infographics; 69 definitions; 14 polls and quizzes and 4 image galleries. Each piece of the 150 pieces of content has its own URL and is sharable.
• In order to support traffic driven from the extensive media campaign, the majority of the site is hosted on the CacheFly CDN network, which provides the added benefit of decreasing download times due to mirrored files on servers in closer proximity to users.
• The site scales well for viewability on all major client platforms (browsers, tablets, smartphones) and serves up alternative content wherever Flash is not resident.
Credits: www.organic.com
| www.studioaka.co.uk



Communication Arts
// From our friends at Communication Arts