"What does it sound like? Sixties Italian horror movie soundtracks performed by a seven-piece all-female matriarchal tribe whose gods are [1970s UK post punk band]… And the Native Hipsters. Vocal harmonies and non-traditional rock instruments – blowy things and honking noises and funk and pop and it's massively inventive."
-Tasmin Chapman, for Collapse Board
It's okay to be skeptical of such bombastic text. We have grown accustomed to the absurd, unimaginable combinations of signifiers put forth by rock critics, and in most cases they fail to impart any meaning. But please listen to Muscles of Joy's nine minute saga "Water break-its-neck" and see if you're not touched by the same chattering fervor:
02 Water break-its-neck by Muscles of Joy
I believe there's a connection between the nature of the visionary rants inspired by Muscles of Joy and the music itself. The group's sound, centered upon the human voice, is effusive and flowing, reveling in utterance. This investigation of possibility, each song an opportunity for developing new arrangements of sound, acts as its own missionary. Listeners encountering Muscles of Joy are drawn to similar fluttering, stretching, and discombobulating of language and voice.
The members of Muscles of Joy are sculptors, painters, filmmakers, animators, and photographers, participants in Glasgow's renowned, tightly-knit arts community. The evidence of these varied practices are clearly apparent in the music—their respect for space, form, and gesture are some of the most distinguishing elements of their sound. The effect of working within a creative community is also clear, with the contrast between vocal unity and fragmentation utilized to great effect. Some of these lessons were learned as several of the members sang with The Parsonage, a 40+ member choir that covered Joy Division and recorded with Echo and the Bunnymen, but Muscles of Joy's relationship with singing goes beyond the power and majesty of choral music.
For Muscles of Joy, vocals sounds are endlessly flexible, a renewable resource that offers unlimited possibility for exploration. There's a playfulness, the delight in sound that accompanies learning a language, but there is also rigor. The density of their voices and the attention paid to arrangement illustrates the focus and vision applied to their music.
04 Coins across his hips by Muscles of Joy
Even at their most propulsive, songs by Muscles of Joy make room for experimentation. The jagged guitar and marching drums of "Coins across his hips" contains the refrain "don't try to rush her," a single voice repeating the words, a chant that resists the song's pace. As the composition evolves, the rest of the band joins in, adding their voices, creating counterpoints, darting through the holes left in the first vocal. A song that begins in the familiar post-punk tradition of Delta 5 or the Fall suddenly dissolves into an arcane exchange that feels almost ritual. This bewilderment, the wonder of how we got here from there is a common experience with Muscles of Joy, one that retains its magic every time.
Anne-Marie Copestake of Muscles of Joy took some time from their preparations to answer questions in advance of their New York debut. Muscles of Joy perform at the New Museum on Friday, January 27th at 7pm. Tickets are still available at the New Museum visitor services desk and online.
Ethan Swan: I'm interested in the role of economy for Muscles of Joy. The human voice is an immediately accessible instrument—free, portable, elastic. Many of the instruments you use, for example hand percussion, or even the way you use instruments, such as the single note guitar playing, share these qualities. You've also built your own instruments—the marching machine, for example. Is there a political gesture embedded in these decisions? Or is a question of access?
Anne-Marie Copestake: With the marching machines there was an actual economic reason for making them in the sense that I initially built them as I didn't have a drum kit. I wanted to find ways to make a beat and thought about building something quite basic that would provide a means to make simple rhythms. This economy of means in approach probably also stems from having been through art school and having very little money to make work with. You become used to making things yourself within tight limits, finding solutions and ways to create with very low to no budgets, and not being able to just go out and buy everything, I think this is significant.
An economy of music possibly arises from our manner in rehearsals and playing together, where initially much was quite tentative, slowly building confidence and discovering what each person desired to do with the music that was being made, and the fact that we wanted to make sure each of us felt we had enough space to experiment and play music in.
ES: One of the things I'm most struck by in your recordings is the acknowledgment of space in the songs. The arrangement of sounds, specifically the vocal sounds, creates the feeling of three dimensions, which is not often found in music. Do you consider voice a plastic medium? Is there a connection to be made with your individual studio practices (sculpture, photography, hair, etc.)?
AMC: Everyone probably acknowledges their own varying tastes and inclinations, and at times there can seem to be connections to approaches in individuals practice as artists. As a group I think one of the foundations of Muscles of Joy and in making music together is in following instincts and not having pre-conceptions of where things will lead. Later on, when a track is played that is liked, enjoyed, and therefore repeated and initially structured, creating and defining space is always a big part of the structuring work. There is also the thought that no one voice is more important than any other, thus perhaps working away from the idea of a 'lead singer' necessitates acknowledging space too.
With the track 'Water break-its-neck' for example, we spent a day trying out vocal phrasing and sounds based on the words – water break its neck – recording numerous combinations of singing parts of that name, but also with an amount of playfulness which we do try not to temper too early. Everyone has a distinctly different voice in its power and range and clarity, and I think we have tried to use each person's particular qualities. There are some very strong singers, and softer voices. I think my voice often sounds like a ghost coughing in the middle of a forest.
ES: What are the benefits to having so many members? What are the pitfalls?
AMC: I think the benefits in having so many members in a band extends to include all the people we have worked with too. We have been really fortunate in that they were, and are, very open, generous, and good fun people. Dep Downie who initially approached us about releasing a record and encouraged us to take our time making sure all aspects of the album felt right; Andy Miller who did all the incredible recordings for the album at Gargleblast; Jamie Grier who mixed the tracks sitting in the middle of us; Emily Roff who saw us knowing nothing and took a leap of faith inviting us to do gigs, and Fielding Hope inviting us to do festivals. (Emily and Fielding present some of the most interesting events in Scotland under the names Tracer Trails and Cry Parrot respectively).
I would say the pitfalls are logistics and finances, both hard to juggle.
ES: Your performance at the New Museum is a part of a larger trip to the US. What else are you doing while in America?
AMC: In New York we are also doing a radio session for WFMU, but prior to that our first ever performance in the United States is at the Isabella Stuart Gardner Museum in Boston, in their new concert hall.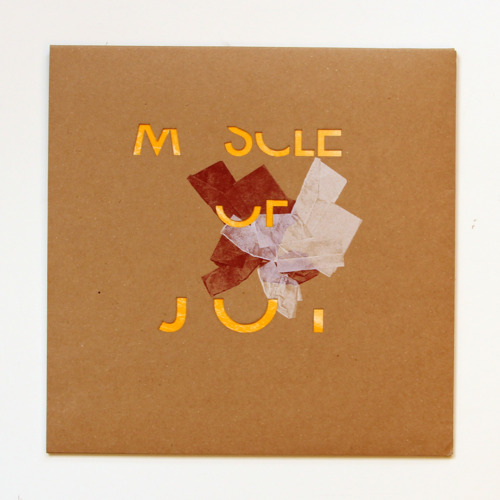 Tweet This Post
Always Open :: NewMuseum.org
Ethan Swan
// From our friends at the New Museum