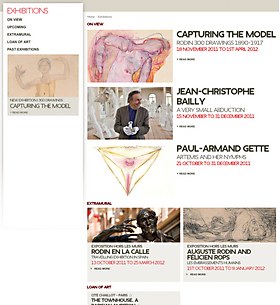 The official site for the Rodin Museum is not only an essential resource about the works and life of the famous sculptor; it also presents the spirit of the museum.
With the goal of highlighting the location, this content-rich site invites visitors onto the exquisite grounds and into the famed buildings of the museum in the heart of Paris. It also houses hundreds of Rodin's works in a presentation that's appropriately subdued and easily accessible.
• The site was in production for six months and included the development of the online store.
• At the top of the requirement list for the museum was accessibility.
• Museum staff manages content through a Drupal CMS containing a variety of templates that give the site a more custom-designed look.
Credits: www.minit-l.net



Communication Arts
// From our friends at Communication Arts