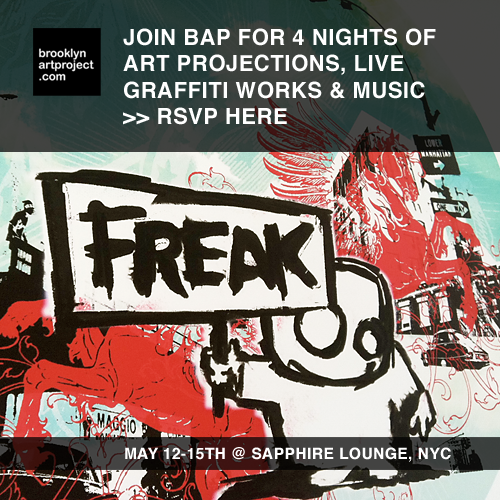 UPDATE: The event was great! See some pics here.
Come celebrate Creative Week NYC and the NY Photo Festival with Brooklyn Art Project at The Sapphire Lounge on the Lower East Side, nightly May 12-15th.
Click here to RSVP and get on the guest list. Join us for engaging member work, collaborative drawing, live art and music — every night from 7-10pm, Thursday May 12th through Sunday, May 15th. Sapphire Lounge (between Houston St & Stanton St) All nights are free. 7—10pm.
Drink Specials: $4 Domestic Beer / $5 Well Drinks
Thursday 5.12.2011
Exhibition of photography and light installations | John Lunceford and James Cospito Light sculptures and design by John Lunceford of eXoticforms, photography by James Cospito, street works by "Thadius Says". Product Launch for eyecons, www.exoticforms.com
Also featuring projections from the Best of Brooklyn Art Project Q1 project – see over 1,000 pieces of projected art. Works by emerging artists from around the world.
DJ Twilite Tone kicks off the exhibit with an eclectic blend of avant garde dance music.
Friday 5.13.2011
Joseph Gaston – live graffiti works.
Continued best of BAP Q1 projections featuring 1,000 works of art
Saturday 5.14.2011
Come get your draw on — BAP meet up and collaborative drawing — bring your paint markers and sharpies for a jumbo size collaboration!
Continued best of BAP Q1 projections featuring 1,000 works of art
Sunday 5.15.2011
Best of BAP Q1 Winners (to be announced) – 100 selections of compelling artworks from around the world, guest curated by Samantha Levin Fine Arts.
Live musical performance by VeryVery unlpugged. Featuring Andrew Ceccon and guest vocalist Teresa Perez.