Wrenched from my one kingdom /// 65 X 65 inches, acrylic on canvas, 2008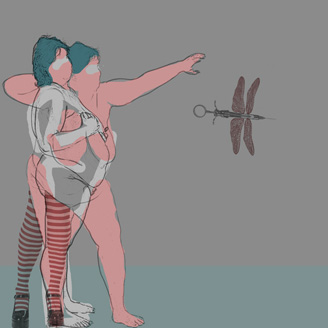 Issue #13 /// 30 X 24 inches, monoprint on paper, 2009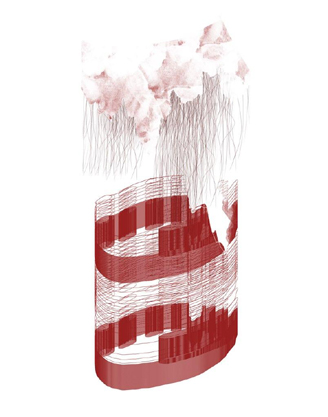 The Death of Strangers /// 60 X 60 inches, acrylic on canvas, 2008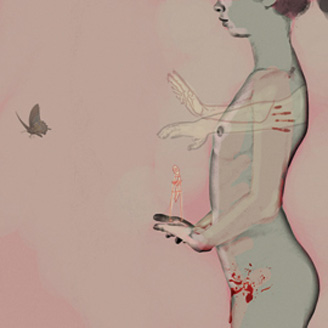 Flies on swinging meat /// 72 X 95 inches, acrylic on canvas, 2009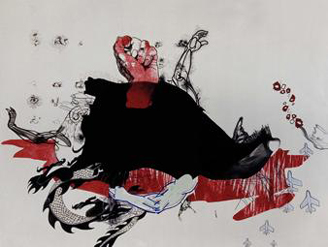 I just watched a TED talk with artist Raghava KK and I am completely delighted. The art I've seen of his, that which dominates his website, is dark and emotional, yet this man I just watched on my computer screen is likely one of the most charming men I've ever seen lecture. He seems to have a boundless energy and an extremely intelligent focus, the combination of which could charm a rock into believing it can fly like a bird.
Raghava is an artist whose life has touched many people. His work style has run the gamut from cartooning to multi-media to painting to sculpture. He's spent years teaching art to children, has traveled all over the world and has proved by example that you can achieve anything you dream to achieve.
His far reaching ambition has an extremely lovable innocence to it, while the dark elements of his recent work illustrate a strong need to understand hardship and sadness.
I'm very excited that I'll be able to meet this lovely man – as will you. Raghava's work will be on display in our booth at the Brooklyn Art Fair next week, March 3-6th, 12pm to 10pm in DUMBO, Brooklyn. For more information, please visit the Verge Brooklyn Art Fair website.