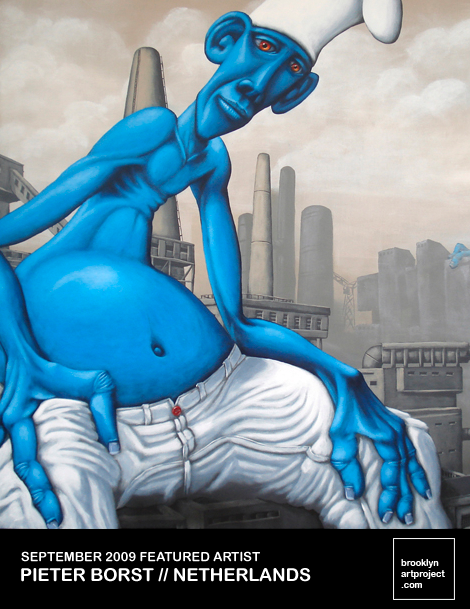 Netherlands based artist and BAP member Pieter Borst creates surreal worlds of goodzillas and bad smurfs. Explore his work and get to know him a little better below.
1. What inspires you these days?
The relationship between people, their emotions and their place in this crazy society. How we can act as a group and as individuals. Visually: From graffiti to the renaissance.
2. Who are your heroes?
My dad, Don Lawrence, Monet, and any one who loves and respects the man/woman next to him.
3. What is your idea of perfect happiness?
When my niece and nephews come running towards me when i pick em up from school.
4. What scares the hell out of you?
Starting a new painting. Every time again.
5. What makes you laugh hard?
The movie Flushed Away.
6. Who are your favorite artists of all time?
Bob Ross because of his happy trees.
There are too many, from different times and places.
7. What is your guiltiest of pleasures?
Watching Bob Ross (again) with a hangover.
8. If you could change one thing about yourself what would it be?
To be more sure of myself.
9. What word comes to mind when you think of religion?
Good for the bad, bad for the good.
10. What comes to mind when you think of Brooklyn?
Art, happening, graffiti and that I soon want to go there.