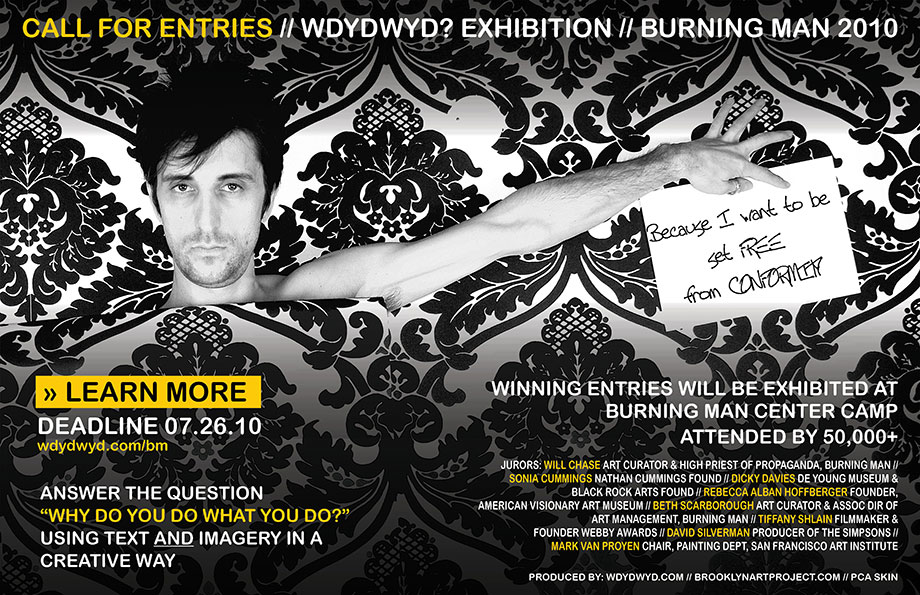 Answer the question "Why do you do what you do?" using text + imagery in a creative way.
"wdydwyd?" Juried Art Exhibit
Burning Man 2010 | Deadline: July 26
Get more info on how to submit here
In collaboration with Brooklyn Art Project, wdydwyd? is mounting a juried exhibition at Burning Man — an event that brings over 50,000 people to a prehistoric lake bed for one of the world's largest and most avant-garde art festivals.
Since 2004, over 10,000 people have answered, "wdydwyd?" from groups as diverse as Harvard Business School, Google, Twitter, Echoing Green Foundation, Kellogg Foundation Fellows, high schools & colleges across the country, Burners as well as notable figures such as Steve Case, the founder of AOL, and Gloria Steinem.
Selection jury includes: WILL CHASE, Art Curator & High Priest of Propaganda, Burning Man // SONIA CUMMINGS, Nathan Cummings Foundation // DICKY DAVIES, de Young Museum & Black Rock Arts Foundation // REBECCA ALBAN HOFFBERGER, Founder, American Visionary Art Museum // BETH SCARBOROUGH, Art Curator & Assoc Dir of Art Management, Burning Man // TIFFANY SHLAIN, filmmaker & founder Webby Awards // DAVID SILVERMAN, producer of The Simpsons // MARK VAN PROYEN, Chair, Painting Dept., SF Art Institute & Corresponding Editor for Art In America.

http://bit.ly/ArtCall | www.wdydwyd.com & www.brooklynartproject.com | Twitter: @wdydwyd & @bklynartprjct