We love having your artwork on BAP and are excited to give you an easy way to instantly tweet your art without having to leave your page. It's simple to set-up and takes a whopping 30 seconds.
To help more people see your artwork and support the BAP community, we'll re-tweet links to select work to our 9,000+ followers around the world.
QUICK INSTRUCTIONS:
To post an art tweet now, go to any one of your artworks on BAP and click on the Twitter icon under the artwork as shown below. Follow the on-screen instructions. TIP: Include #bap_art so we can review it for re-tweeting.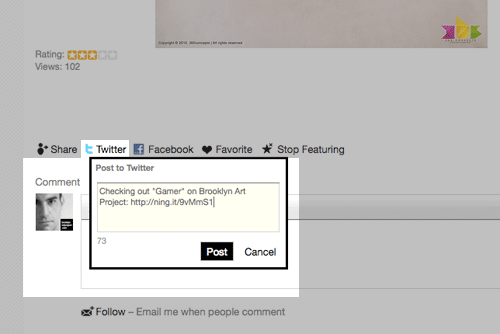 STEP-BY-STEP INSTRUCTIONS
1. Just click on the Twitter icon under the artwork on any individual artwork or video page (as in screen shot shown above), securely provide your Twitter username and password, confirm on the following screen and boom – that's it. Click here to do it now.
2. Now whenever you want to tweet a link to an artwork, just click on the Twitter icon and a fully customizable message with shortened link is provided for you.
3. Click "POST" to publish the tweet. Be sure to include #bap_art at the end of your tweet to get it reviewed for re-tweeting to BAP's 9,000+ followers. (ex. Checking out "Gamer" on Brooklyn Art Project: http://ning.it/9vMmS1 #bap_art )
TIP: If you make a typo entering your Twitter username or password, just go here to the Profiles / Connections page to fix it.
GET RECOMMENDED BY BAP EVERY FRIDAY
Every Friday we'll also be featuring a selection of members who tweet their work in our "Follow Fridays" lists. This introduces thousands of artists, art enthusiasts, and collectors to your work directly through Twitter. Just remember to include #bap_art so we're sure to see your tweet.
Send a tweet now to get in the running for this week. We choose new members to feature every week until Thursday at noon.
We're always looking for new ways to help you promote your art through social media. Got an idea? Let us know.