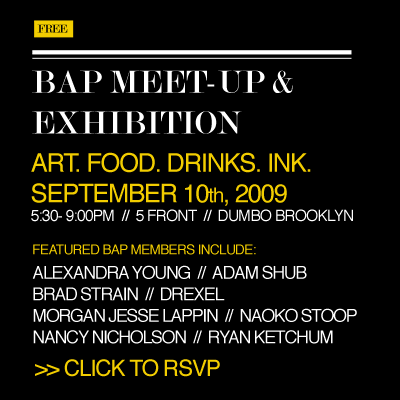 Welcome in the busiest month of the year for art with us here in Brooklyn at BAP's 6th Exhibition and Meet-up. We'll be showcasing exceptional new work from BAP Members at two locations, mixing up some potent drink specials and serving free tastings of New Italian/American cuisine at the bar, complements once again of Five Front Chef/Owner Paul Vicino.
With so many talented artists in one place, we're continuing our tradition of passing around canvases and markers for some surrealist drawing games.
We're building an inspired body of community-curated artwork from these events that will be auctioned off for charity later this year.
SEPTEMBER ARTISTS:
Alexandra Young
Brad Strain
Morgan Jesse Lappin
Nancy Nicholson
RETURNING ARTISTS:
Adam Shub
CJ Rosenthal
Drew Anderson
dreXel
Foon Foono
James Cospito
Naoko Stoop
Patricia Raubo
Raghava KK
Ryan Ketchum
Soule
Steve Shub
RSVP
If you're a BAP member just click to RSVP on the right and help us make sure we've got plenty of Five Front's spectacular food for everyone to nibble on.

If you're not a member JOIN NOW (free), or just come on by Thursday.

Remember BAP membership is NOT required so bring your friends along.

Check out some pics from our August exhibition


DIRECTIONS (Click for map)
F to York Street
A/C to High Street
2/3 to Clark Street