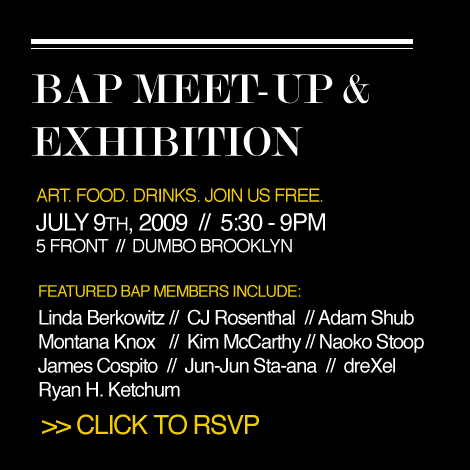 Come celebrate Summer with us this Thursday. We'll be showcasing exceptional new work from BAP Members, mixing up some potent drink specials and serving free tastings of New Italian/American cuisine at the bar, complements once again of Chef/Owner Paul Vicino.
The outdoor garden is nicely nestled under the Brooklyn Bridge and a perfect place to spend a Thursday evenin in the Summer. We'll set-up a big canvas for a live BAP collaboration, so pack a pen.
New Work This Month by:
Linda Berkowitz
Naoko Stoop
Adam Shub
Ryan H. Ketchum
CJ Rosenthal
With Continued Work on Exhibit
Jun-Jun Sta-ana
Kim McCarthy
James Cospito
Montana Knox
dreXel
RSVP
If you're a BAP member just click to RSVP on the right and help us make sure we've got plenty of Five Front's spectacular food for everyone to nibble on. If you're not a member JOIN NOW (free), or just come on by Thursday.
Check out some pics from previous meet-ups below. Don't miss the pics of the "exquisite corpse" drawings we were doing at the bar, great stuff 🙂
Remember BAP membership is NOT required so bring your friends along.
DIRECTIONS
Public Transportation
F to York Street
A/C to High Street
2/3 to Clark Street