BARACK OBAMA RSS WORDCLOUD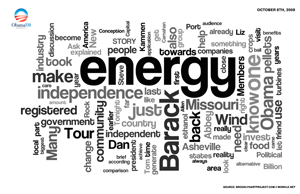 JOHN MCCAIN RSS WORDCLOUD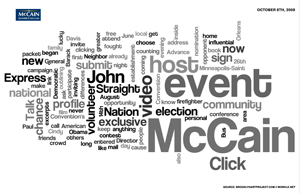 It's now about two months after our original post comparing the candidate's rss wordclouds and not one of the McCain's RSS feeds have been updated.
Nothing about the economy (despite his dedicated feed for it and that pesky Wall Street bailout you might have heard about), or a peep about his campaign (despite the Palin pick). To give credit, McCain's blog posts have been updated regularly, but the RSS feeds are still starving for content. Once again we had to not include the Iraq and Spending RSS feeds because they haven't been updated since 2007. The most recent update was his "campaign" feed back on July 31st.
Obama's RSS feed on the other hand is updated daily. His word cloud is what you would expect. Confident, bold, and dare I say – presidential? Obviously there are hundreds of issues more important to judge a candidate on than word clouds, but when these data visualizations reflect what each cares most about, a simple comparison speaks volumes. One leaps off the screen as relevant, in-touch and energized. The other – outdated, out-of-commission and slowing down with each passing month.