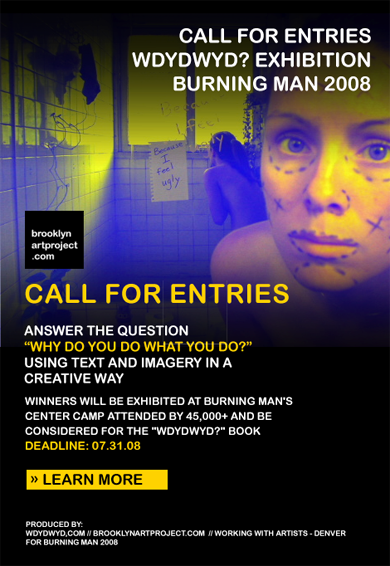 Brooklynartproject.com is proud to announce our latest project – a juried competition for Burning Man 2008 in collaboration with wdydwyd.com and Working With Artists – Denver. This is one of the world?s largest and most avant-garde art festivals, attended by over 45,000 people.
Answer the Question: Why Do You Do What You Do?"
The call for entries is open to artists, photographers and creative minds from all walks of life. The premise is simple, just answer the question "Why do you do what you do?" using text and imagery in a creative way.
Up to 45 submissions will be chosen for exhibition and considered for publication in the wdydwyd? book.
Learn more, see examples, and register here.
The ides for wdydwyd? was launched by Tony Deifell in 2004 and has grown to involve over 3,000 people from around the world from groups as diverse as Harvard Business School, Echoing Green Foundation, Kellogg Foundation Fellows, including notable figures like Steve Case, the founder of AOL, and Gloria Steinham.
Not An Artist But Want to Submit?
Just add your answer below as a comment to this blog post and share it with the world.
Produced by wdydwyd.com, brooklynartproject.com, and working with artists for Burning Man 2008.